WEBINAR: Medical Device Reprocessing for Dentistry in Canada
IPAC Canada Members can now receive an education credit towards their CIC® recertification by attending IPAC Canada educational webinars.

Every attendee must register individually. In the event that more than one participant is enrolled from one location, i.e. a group setting (several attendees in one room), the full title of the organization attending must be spelled out when that group is logging in to the webinar.

All participants in an educational webinar must log into the webinar room with their full name.

This is to comply with recertification requirements of the Certification Board of Infection Control (CBIC). CBIC has approved the use of a generic certificate of completion which will be available for download at the end of the webinar.

1 IPU per hour is approved for IPAC Canada webinars.
Date: Thursday, March 19, 2020
Time: 1030 PT, 1130 MT/SK, 1230 CT, 1330 ET, 1430 AT, 1500 NL
Duration: 1.0 hour
Log in information will be provided at a later date.
THIS WEBINAR IS FOR IPAC CANADA MEMBERS and INTERESTED COLLEAGUES IN THE DENTAL SETTING.
Click here for Questions and Answers from this webinar.
Description of Presentation
This one hour webinar has been developed to raise awareness around medical device reprocessing within the practice of dentistry while being keenly aware that many of the challenges faced in dentistry can also be applied to other community or non-hospital healthcare providers such as private physicians' offices and footcare. The discussion will examine root causes for adversity in becoming current with best practices as well as describing concepts and practices that are commonly misunderstood in the community setting. Finally, there will be a brief overview of those devices that create the greatest challenges in reprocessing for dentistry.
PRESENTER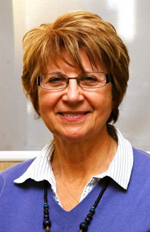 Nita Mazurat DDS MSc is a graduate of the University of Alberta (DDS) and University of Manitoba (MSc) and has practiced dentistry in Alberta and in Manitoba. She was a full time Faculty member with the University of Manitoba College of Dentistry until her retirement in 2019. Since her retirement she has continued her involvement with organized Dentistry in her role on the committee that is currently revising the Manitoba Dental Association Infection Prevention and Control Standards. She is a member of the Technical Committee on Medical Device Reprocessing, a member of CAMDR and is also a member of the Educational Committee for CAMDR, a member of OSAP (Organization for Safety, Asepsis, and Prevention), and a proud member of IPAC Canada. She continues to provide lectures on infection prevention and control and reprocessing to dentistry as well as consulting, writing, and editing on the same topics. Nita is a very enthusiastic grandmother, an avid gardener - but a less accomplished golfer.
This webinar is made possible through the generous support of