IPAC Canada Products
Product Index
Related Items
IPAC Canada encourages members to become involved in projects that will further the advancement of infection prevention and control in Canada. For more information click here.
---
Just Released! IPAC Canada Recipe Book.
Dear IPAC Canada Colleagues,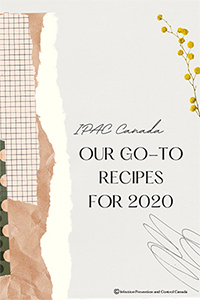 The IPAC Canada Program and Projects committee is excited to announce that the IPAC Canada recipe book: "Our Go-To Recipes for 2020", is complete. Thank you to all of you who were able to send in your go-to recipes. This book contains over 100 favourite recipes from members of 18 of our chapters, and even IPAC Canada staff!
We will be offering a soft-copy download of the recipe book for a donation. The money raised will go towards IPAC Canada initiatives, including adding to the new soon-to-be-announced CIC® Scholarship and compensating an IPAC Canada 2022 membership(s). The results of the 2021 scholarship donation and the name(s) of those who have won a complimentary 2022 membership will be announced in December 2021. To help support these initiatives, we are asking for a minimum $15.00 donation, if possible.

If there is enough interest, we may offer a hard copy version. Please let us know if you are interested in a hardcopy version and if you'd be willing to pay an extra cost for it.
Thank you again for all who supported this initiative, and happy cooking!
Baljinder Sidhu and Kasey Gambeta
Recipe Book Leads
IPAC Canada Programs & Projects Committee
---
IPAC Canada members can download the Audit Tookit, and informational DVDs from the Members Only area of the website. Click here.
IPAC Canada Infection Control Audit Toolkit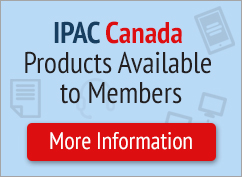 IPAC Canada audit tools are designed to support you to measure your success at moving best evidence into best practices in your organizations. The audit tools are available to IPAC Canada members to download AT NO CHARGE in the Members Area of the website. CD with or without links to online tools now available. Non-members may purchase non-interactive individual tools by contacting IPAC Canada (info@ipac-canada.org).
Audit Tools Currently Available:
SECTION 1: OVERVIEW
Introduction and Disclaimer
The Audit Process

SECTION 2: BASIC INFECTION PREVENTION AND CONTROL AUDIT TOOLS
Hand Hygiene
Personal Protective Equipment (PPE)
Routine Practices
Outbreak Management
Self-Audit Tool for ICPs

SECTION 3: AUDIT TOOLS FOR THE ENVIRONMENT AND EQUIPMENT
Animal Visitation and Pet Therapy
Construction/Renovation and Maintenance
Environmental Cleaning
Equipment Reprocessing
Intravascular Catheters

SECTION 4: AUDIT TOOLS FOR SPECIFIC AREAS/DEPARTMENTS

Doctor's Office/Ambulatory Clinic
Dentistry
Endoscopy
Foot Care
Hemodialysis
Home Care
Hospice Settings
Imaging
Occupational Health and Safety
Operating Room
Ophthalmology and Optometry
Perinatology
Pharmacy
Prehospital Care
Respiratory Therapy

SECTION 5: ANNEXES and FORMS
For a detailed list of audit tools available, click here (Members Area).
---
Emergencies and Disasters Tookit (4th Edition, 2022)
This digital toolkit contains material to assist an infection prevention and control professional (ICP) when planning for and responding to a disaster utilizing an all-hazards type approach. The toolkit provides useful items such as checklists and templates that can be adapted to specific types of health care settings. Several of the resources have been used in the field and found to be useful by their creators.
Additional resources, key websites and references have been provided.

---
Professional E-learning Curriculum
IPAC Canada has launched its Infection Prevention and Control Program for Front Line HealthCare Workers, new for 2018. This comprehensive English and French self-paced, online learning program is designed to help implement standardized infection prevention and control practices while reducing the number, duration and severity of infections in any healthcare setting.
For more information click here.
---
Hand Hygiene E-Learning Modules
Infection Prevention and Control Canada and Discovery Campus offer an online hand hygiene education module for healthcare workers and volunteers. Please allow yourself 15 minutes to complete the training session. You will receive a certificate of completion at the end.
To access the free e-learning modules click here.