Julie Larose Memorial Scholarship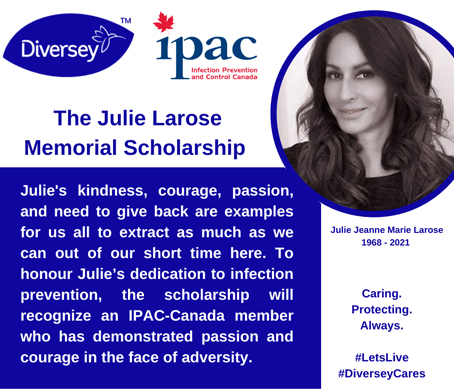 In memory of Julie Larose, a Diversey Inc. representative, IPAC Canada member, and friend to so many in healthcare, Diversey Inc. is supporting a scholarship to recognize an IPAC Canada member who has demonstrated grace, tenacity and humour in the face of adversity and may not be well known on the national stage. The candidate may also be nominated for lifetime achievement in infection prevention and control. The nomination may be made by a member of IPAC Canada, an IPAC Canada Chapter, or the Board of Directors of IPAC Canada.
The winning nominee will be awarded travel, accommodation and registration to the IPAC Canada 2023 National Education Conference (Vancouver, BC, May 28-31, 2023). The criteria and fillable nomination form are below. The deadline for nominations is March 1, 2023.
Important Documents:
Directions:
Download the fillable nomination form. Complete and then choose one of the options below:
Upload your completed form to this page in the form below.
Email your nomination form to info@ipac-canada.org.
Submit Nomination Form