Mpox virus (formerly known as Monkeypox)
Mpox (formerly know as Monkeypox) is a rare disease that is caused by infection with Mpox virus. The mpox virus belongs to the Orthopoxvirus genus which also includes variola virus (which causes smallpox), vaccinia virus (used in the smallpox vaccine), and cowpox virus.
Mpox was first discovered in 1958 when two outbreaks of a pox-like disease occurred in colonies of monkeys kept for research, hence the name 'monkeypox.' The first human case of mpox was recorded in 1970 in the Democratic Republic of the Congo (DRC). Mpox is thought to originate in rodents in Central and West Africa, and it has repeatedly jumped to humans. Cases outside Africa are rare and have so far been traced to infected travelers or imported animals.
In May 2022, multiple cases of mpox were identified in several non-endemic countries. On July 23, the World Health Organization (WHO) Director General issued a statement declaring that the global mpox outbreak represents a public health emergency of international concern (PHEIC). Following this, the Public Health Agency of Canada (PHAC) also issued a statement to provide an update on the ongoing response to mpox.
By November 21, 2022 the number of mpox cases had climbed to over 80,488 cases worldwide, with 103 locations being non-endemic countries. Epidemiological investigations are ongoing. The vast majority of reported cases so far have no established travel links to an endemic area and have presented through primary care or sexual health services. Studies are currently underway to further understand the epidemiology, sources of infection, and transmission patterns.
The Public Health Agency of Canada is working with provincial and territorial public health partners to investigate cases of mpox. As of April 28, 2023 there have been 1,484 cases of mpox in Canada.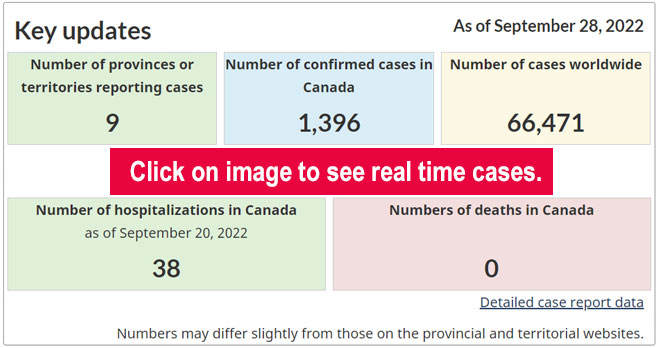 Sources:
---
Transmission
Historically, there has been limited person-to-person transmission.Monkeypox can spread from animals to humans, from person to person and through contaminated objects.
Mpox is mostly spread through contact with sores or blisters.
It can also be transmitted through items like bedding or towels that have monkeypox virus or respiratory droplets such as coughs and sneezes during close, face-to-face contact with a person who has mpox.
Mpox is not known to be a sexually transmitted infection, like syphilis or HIV, but sexual activities often include close contact.
---
Signs and Symptoms
According to the World Health Organization, all of the infected people in the U.K. contracted the West African clade of the virus, a version that tends to be mild and usually resolves without treatment. Most people experience symptoms that last 2 to 4 weeks and occur in two stages. The infection begins with fever, headache, aching limbs and fatigue. Other less common symptoms can include sore throat, cough, nausea or vomiting, and diarrhea. Typically, after one to three days, a rash develops, along with blisters and pustules that resemble those caused by smallpox, which eventually crust over.
The second stage usually starts 1 to 5 days after the first stage. Rash (sores/blisters) develop. Mpox sores/blisters are most commonly seen on the hands, feet, arms, legs, mouth and/or genitals. Mypox sores/blisters usually last between 2 to 3 weeks. The rash change in appearance over time from raised spots to small blisters filled with fluid. They eventually form a scab and fall off.
---
Mpox (Monkeypox) National Case Definition
Suspected case
A person of any age who presents with one or more of the following:
An unexplained

acute rash

AND has at least one of the following signs or symptoms

Headache
Acute onset of fever (>38.5°C),
Lymphadenopathy (swollen lymph nodes)
Myalgia (muscle and body aches)
Back pain
Asthenia (profound weakness)

An unexplained

acute genital, perianal or oral lesion(s)
Probable case
A person of any age who presents with an unexplained acute rash or lesion(s)
AND
Has one or more of the following:
Has an epidemiological link to a probable or confirmed mpox case in the 21 days before symptom onset, such as

face-to-face exposure, including health workers without appropriate personal protective equipment (PPE)
Direct physical contact, including sexual contact; or contact with contaminated materials such as clothing or bedding

Reported travel history to or residence in a location where mpox is reported in the 21 days before symptom onset.
Confirmed case
A person who is laboratory confirmed for mpox virus by detection of unique sequences of viral DNA either by real-time polymerase chain reaction (PCR) and/or sequencing.
Source: Public Health Agency of Canada
---
Infection Prevention and Control
PPE used by healthcare personnel who enter the patient's room should include:
Gown
Gloves
Eye protection (i.e., goggles or a face shield that covers the front and sides of the face)
NIOSH-approved N95 filtering facepiece or equivalent, or higher-level respirator
---
Resources