IPAC Canada Recipe Book
Dear IPAC Canada Colleagues,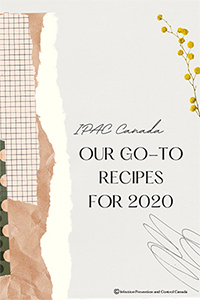 The IPAC Canada Program and Projects committee is excited to announce that the IPAC Canada recipe book: "Our Go-To Recipes for 2020", is complete. Thank you to all of you who were able to send in your go-to recipes. This book contains over 100 favourite recipes from members of 18 of our chapters, and even IPAC Canada staff!
We will be offering a soft-copy download of the recipe book for a donation. The money raised will go towards IPAC Canada initiatives, including adding to the new soon-to-be-announced CIC® Scholarship and compensating an IPAC Canada 2022 membership(s). The results of the 2021 scholarship donation and the name(s) of those who have won a complimentary 2022 membership will be announced in December 2021. To help support these initiatives, we are asking for a minimum $15.00 donation, if possible.

If there is enough interest, we may offer a hard copy version. Please let us know if you are interested in a hardcopy version and if you'd be willing to pay an extra cost for it.
Thank you again for all who supported this initiative, and happy cooking!
Baljinder Sidhu and Kasey Gambeta
Recipe Book Leads
IPAC Canada Programs & Projects Committee