Definition of an ICP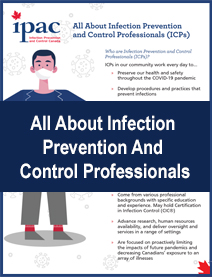 IPAC Canada is very appreciative of its members who represent many different disciplines and settings. The Board of Directors of IPAC Canada has defined the criteria for members who can be classified as an Infection Prevention and Control Professional (ICP) .
An Infection Prevention and Control Professional (ICP) is an individual who is employed with the primary responsibility for development, implementation, evaluation, and education related to policies, procedures, and practices that impact the prevention of infections. Integral competencies to the role include knowledge of infectious disease processes, microbiology, routine practices and additional precautions, surveillance, principles of epidemiology, research utilization and education. The performance of these activities and application of competencies will vary depending on the setting in which the ICP functions. Additional supporting competencies include communication, leadership, and professionalism. An ICP who demonstrates infection prevention and control competencies should be Certified in Infection Control (CIC®), having successfully passed the initial certification exam and recertification every 5 years.
Alternative terms, having met the same competencies, may include, but not limited to:
Infection Prevention and Control Practitioner
Infection Control Professional
Infection Control Practitioner
Infection Control Specialist
Infection Control Consultant
Infection Preventionist
Refer to IPAC Canada Core Competencies for Infection Control Professionals.
---
Suggested ICP Job Description