Going Viral: Beyond the Front Page to Influence Health
EVERY ATTENDEE MUST REGISTER INDIVIDUALLY.

In the event that more than one participant is enrolled from one location, i.e. a group setting (several attendees in one room), the full title of the organization attending must be spelled out when that group is logging in to the webinar.

All participants in an educational webinar must log into the webinar room with their full name.

CERTIFICATION POINTS

IPAC Canada Members can now receive an education credit towards their CIC® recertification by attending IPAC Canada educational webinars.

This is to comply with recertification requirements of the Certification Board of Infection Control (CBIC). CBIC has approved the use of a generic certificate of completion which will be available for download at the end of the webinar.

1 IPU per hour is approved for IPAC Canada webinars.

The Certificate will be available to all participants to download.
Date: Thursday, 14th July, 2022
Time: 1030 PT, 1130 MT/SK, 1230 CT, 1330 ET, 1430 AT, 1500 NL
Duration: 1.5 Hours
THIS WEBINAR IS FOR IPAC CANADA MEMBERS ONLY.
Description
The pandemic highlighted a nuance of human nature: storytellers are believed not because of their story, but because of the way they tell it. Journalist and physician Blair Bigham blends his medical skillset with his storytelling craft to help patients adjust their behaviour to live healthier lives. It turns out journalists and health care professionals have a lot in common, but reach into very different toolkits to solve consequential problems. In this talk, Blair translates between the media and medical worlds to form an advanced approach to being heard - and being trusted.
Presenters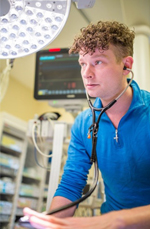 BLAIR BIGHAM is an award-winning journalist, scientist and physician who trained in emergency and critical care medicine at McMaster and Stanford Universities. He was a Global Journalism Fellow at the Munk School of Global Affairs and Associate Scientist at St Michael's Hospital. His work has appeared in newspapers, magazines, newscasts, podcasts and medical journals. He is co-host of the CMAJ Podcast and deputy editor at healthydebate.ca. He witnesses the relationship between wealth and health on a daily basis, and reports on the undertold stories of patients, healthcare providers, and the systems that help or fail them. His first book, Death Interrupted: How modern medicine is complicating the way we die is available for pre-order and will release September 20, 2022.