How to Build a Culture of Accountability
EVERY ATTENDEE MUST REGISTER INDIVIDUALLY.

In the event that more than one participant is enrolled from one location, i.e. a group setting (several attendees in one room), the full title of the organization attending must be spelled out when that group is logging in to the webinar.

All participants in an educational webinar must log into the webinar room with their full name.

CERTIFICATION POINTS

IPAC Canada Members can now receive an education credit towards their CIC® recertification by attending IPAC Canada educational webinars.

This is to comply with recertification requirements of the Certification Board of Infection Control (CBIC). CBIC has approved the use of a generic certificate of completion which will be available for download at the end of the webinar.

1 IPU per hour is approved for IPAC Canada webinars.

The Certificate will be available to all participants to download.
Diversity, Equity and Inclusion (DEI) Learning Series 2022.
This webinar is the third in the series.
Date: Friday, October 21, 2022
Time:1030 PT, 1130 MT/SK, 1230 CT, 1330 ET, 1430 AT, 1500 NL
Duration: 1 Hour
THIS WEBINAR IS FOR IPAC CANADA MEMBERS ONLY.
Description
Accountability is at the core of an inclusive workplace free of racism and racial biases. Efforts to enhance racial justice in an organization are meaningless and ineffective if leadership does not foster a culture of accountability. In this talk we examine ways to assess whether your organization has an accountability framework with DEI principles in place.
Presenter: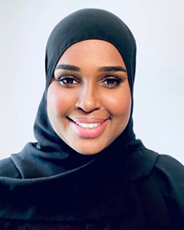 HIBAK MAHAMED BSc MPH CIC is a certified Infection Control Practitioner (ICP) who has worked in the acute care setting for over a decade. She holds a Masters of Public Health from the University of Waterloo and a BSc in Kinesiology and Health Science from York University.
Hibak is a passionate advocate for reforming the health care space by sharing her unique perspective, and examining how race, culture and ethnicity affect health disparities and quality of care for visible minorities and marginalized groups.
The Infection Prevention and Control space in particular plays a pivotal role in ensuring quality care for our patients. Hibak is a proponent of more equitable internal practices towards staff, and progressive policies towards the communities we serve in order to become a more inclusive sector.
WATCH FOR AN ANNOUNCEMENT OF THE DEI LEARNING SERIES 2023