IPAC Canada Publications and Collaborations
IPAC Canada Publications
IPAC Canada Collaborations
Infection Prevention and Control (IPAC) Program Standard
The IPAC program standard has been designed to inform senior leaders engaged with IPAC programs in health care organizations and IPAC program staff, of the minimum requirements for IPAC programs, across the continuum of health care in Canada.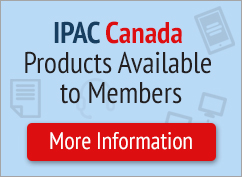 Additionally, the IPAC program standard:
describes the culture, scope and foundational framework necessary for the development of a successful IPAC program
synthesizes best practices, guidelines and recommendations from Canadian (national and provincial) bodies and international agencies
incorporates significant findings from the current scientific literature.
The IPAC program standard may be used as a resource:
for prioritizing and developing an IPAC program;
as a way to obtain senior management support for the IPAC program;
to ensure consistency in the recommended program elements across all Canadian health care settings; and
to engage in strategic planning activities for the future.
Download Infection Prevention and Control (Program) Standard
NOTE: IPAC Canada members may download the IPAC Canada Program Audit Tool (PAT©) and auditing annex, Auditing the IPAC Program, to carry out audits of an organization's IPAC program against the IPAC Program Standard.
---
Core Competencies for Infection Control Professionals (ICPs)
Since 1999, when IPAC Canada and APIC first published professional and practice standards for infection prevention and control (IPAC), much has changed in the IPAC world, including expansion of continuing education opportunities for infection control professionals (ICPs) and of ICP's responsibilities. IPAC Canada, like other organizations, has therefore developed a set of 157 competency statements, in 14 competency areas, that indicate the minimum knowledge, skills and attitudes required to practice safely and ethically as an ICP. These were finalized after several rounds of feedback, first from topic-specific experts, then general experts, and finally from IPAC Canada Chapter members. This approach allowed us to obtain feedback from key experts and end users to ensure that the competencies are grounded in current practice in Canada.
Box 1 summarizes the 14 competency areas, which are grouped as foundational, applied and supporting core competencies, although there may be some overlap between competency areas. The Foundational core competencies reflect the basic knowledge and skills that are required for all aspects of IPAC and that the competent ICP will draw on daily. The Applied core competencies reflect the knowledge and skills that will not be required on a daily basis but rather as specific issues arise. The Supporting core competencies are not IPAC-specific but rather reflect the overarching knowledge and skills required by a competent ICP to assist with the effective functioning of an infection prevention and control program.
A competent ICP is one who is able to perform effectively in the roles and functions required by his or her position and within the team and organization. It is expected that ICPs in any health care setting have knowledge and skills in all of the competency areas, although not all of the core competencies identified would necessarily need to be applied in all work settings.
Specific competencies for novice and expert levels of ICP have not been defined but it is expected that ICPs and their managers can use the core competencies to guide performance appraisal and related professional development activities. Competence and expertise can thus be recognized and areas for growth and strengthening can be articulated. Individuals will vary in the amount of time, types of resources, and types of learning experiences needed to develop different competencies, depending on their knowledge, experience, environment, and health care setting. The core competencies document can also be used to guide programs and educational offerings.
Articulating core competencies is a key first step; ICPs and organizations now need to utilize the competencies to set and meet expectations for consistent professional practice that will translate to safer work and healthcare environments and to quality of care. IPAC Canada's Core Competencies for ICPs are now ready for use!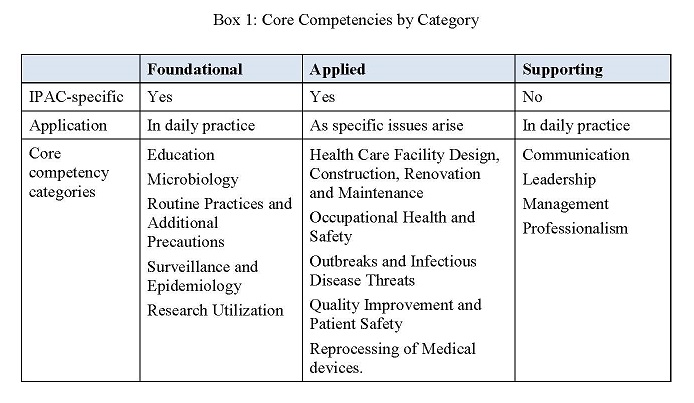 Core Competencies for Infection Control Professionals
Les compétences de base de PCI Canada pour les professionnels du contrôle des infections
Core Competencies for ICPs Webinar.
Tuesday, January 24, 2017
Presenters: Donna Moralejo and Barbara Catt
---
Core Competencies for Health Care Workers (HCWs)
In 2013, an IPAC Task Group was put together to update the Infection Prevention and Control (IPAC) Core Competencies for Health Care Workers. This task was completed in September 2016.
BACKGROUND: The original core competencies were developed in 2006 as a set of common core competencies in IPAC that apply to all health care workers. The competencies were essential information that a health care worker involved in patient care needs to allow them to work safely and also to prevent transmission of organisms in their institution. This was done by building a Canada-wide consensus. These were published: Henderson, EA, The CHICA-Canada Education Committee and members from CHICA Canada Chapters (2006). Essential Infection Control Competencies Needed by Healthcare Workers Involved in Patient Care: A Canadian Consensus. Canadian Journal of Infection Control 21(1): 62-7. The competencies were categorized into 6 areas: basic microbiology, hand hygiene, routine practices and transmission-based precautions, personal protective equipment, personal safety, sterilization and disinfection and critical assessment skills.
PURPOSE: The initiative was to update the set of common core competencies in Infection Prevention and Control that apply to all health care workers across all health care sectors. The scope of Infection Prevention and Control and IPAC Canada was expanded to include community, pre-hospital and public health including both regulated and non-regulated health care settings. The competencies were reviewed to reflect this change in scope as well as to reflect practice changes that have occurred in the last 10 years including the worldwide Ebola outbreak. These basic core competencies serve as a platform for adding occupation specific competencies.
The objective was to identify the specific competencies health care workers need to be able to do to protect themselves in their working environment as well as protecting their patients/ residents/clients. There was no attempt to identify who is responsible for ensuring health care workers meet these competencies. Some competencies will fall directly within the purview of Infection Prevention and Control while others will be outside. These competencies can be used to develop training for existing health care workers and can be distributed to institutions across Canada for integration into training programs for all future health care workers.
CORE COMPETENCIES: The Task Group updating the competencies consisted to 8 individuals from across Canada who can from many of the different health care sectors. Once developed, the competencies were sent to the IPAC-Canada Chapters and the Board for input.
The updated health care worker core competencies were expanded into 13 categories listed below. The competencies cover the same general areas of knowledge and skills identified in the original competencies. The updated competencies often identify a very specific knowledge and skills that reflect changes in IPAC practices. They reflect the trend towards the use of "horizontal" rather than "vertical" IPAC practices. The updated core competencies fall into these categories:
Understands basic microbiology
Understands the 'Chain of Infection'
Understands the importance of Surveillance
Understands and demonstrates the use of 'Point of Care' Risk Assessment
Understands and Uses Routine Practices
Understands the importance of Hand Hygiene and can demonstrate acceptable methods
Understands and demonstrates use of appropriate personal protective equipment (PPE)
Understands and demonstrates the use of Additional Precautions: why and when they are used
Understands the difference between general, biomedical, pharmaceutical or biohazardous wastes.
Understands how to appropriately prevent and manage occupational exposures to sharps and blood and body fluids (Workplace Health and Safety)
Understands the role of vaccine in preventing certain infections including annual influenza immunizations
Understands the cleaning, reprocessing and storage requirements for health care equipment
Critical Thinking
Core Competencies for Health Care Workers
---
IPAC Canada Weekly News Round Up
Receive the weekly publication from IPAC-Canada summarizing the top tweets for the week. The News Round Up Newsletters can be found here. To receive these updates in real time, follow us on Twitter (@IPACCanada) or Facebook.
We can also share via social media your news/photos from chapter meetings, special interest group meetings, or even a team huddle! Just snap a photo, take a screenshot, or write a few lines of text and email it to socialmedia@ipac-canada.org.
---
IPAC Canada Collaborations