IPAC Canada Products
IPAC Canada members can download the Audit Tookit, Sudsy videos and workbooks, and informational DVDs from the Members Only area of the website. Click here.
Infection Control for Families and Visitors

Developed by the South Western Ontario Infection Control Network, London Health Sciences Centre and St. Joseph's Health Centre, this eight minute DVD resource has been designed to assist staff to help educate family members and other visitors about the importance of their role in infection control. Proper use of personal protective equipment (PPE) and effective hand hygiene techniques are demonstrated in an easy-to-understand format while emphasizing the role of the visitor in preventing the spread of infection. Available in English only.
The Grand Prix of PPE for Long Term Care

A new DVD resource created by Regional Infection Control Networks in Ontario, this teaching tool focuses on the essentials of personal protective equipment. Although targeted to the long term care setting, the messages are equally engaging for acute care as well. The DVD employs a humorous approach that makes it a great teaching tool for new and existing staff alike. English and French versions included! This item is no longer in inventory.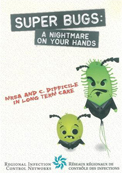 Superbugs – A Nightmare on Your Hands
Developed by the Erie St. Clair Infection Control Network, this 12 minute DVD provides a resource for Long Term Care to clearly promote the use of hand hygiene and alcohol hand rub as the gold standard for cleaning hands that are not visibly soiled. The DVD explains simple yet important hand hygiene tasks we all need to practice as health care personnel. Superbugs – A Nightmare on Your Hands! is perfect for in-house education sessions. The video has uses a humorous approach to keep front line staff interested in the education and health value of the information. The superbugs C-Diff and MRSA (played by two actors) look for someone loaded with antibiotics, get into their system and cause as much mayhem as they can! The two superbugs believe this is possible because health care providers do not always practice safe hand hygiene, sometimes ignoring the alcohol hand rub and not wearing gloves. What are the safe practices to kill off these nasty Superbugs? The DVD will encourage use of the effective slogan "Squirt, swirl, switch, swirl, and scrub until dry" before and after contact, after exposure to bodily fluids and before aseptic procedures. Both English and French DVD and Education Tool included! .
IPAC Canada Infection Control Audit Toolkit
IPAC Canada audit tools are designed to support you to measure your success at moving best evidence into best practices in your organizations. The audit tools are available to IPAC Canada members to download AT NO CHARGE in the Members Area of the website. CD with or without links to online tools now available. A printed copy of the toolkit is available from IPAC Canada for $300 plus shipping and handling plus GST. For a detailed list of audit tools available, see AuditToolkit/toolkithome.php (Members Area).
"Just Wash 'Em" / "Lavez les"
A seven minute video directed to Elementary School aged children. Reaching today's kids with our all-important handwashing message is a major step in preventing the spread of infection. IPAC Canada's very own Sudsy makes his debut in a creative, fun-to-watch handwashing video aimed at school-aged children. Great for school projects, seminars and demonstrations. IPAC Canada members may download the video and workbook from www.ipac-canada.org at no cost. Additional cost to purchase VHS or DVD.


View Sudsy Video Clip on Mac or Windows with QuickTime (1MB)
Download QuickTime



OR View Order Form / Members only free download (Higher quality video and accompanying school worksheets)
Best Practices in IPAC Related to Gram-Negative Resistance

Multidrug-resistant gram-negative bacteria are being seen more commonly in many areas of the world. It is unclear whether specific infection prevention and control (IPAC) or antibiotic control measures will be effective in controlling their spread. The new GNR Toolkit contains information to help IPAC professionals make informed decisions on what measures to implement when needed. In particular, there is a best practices document developed with the assistance of 12 IPAC experts. The document focuses on routine and special practices, screening, surveillance, antisepsis, and disinfection. The toolkit also contains useful information on laboratory practices, antimicrobial resistance, outbreak investigation tools, and educational material. This toolkit has been developed by IPAC Canada in collaboration with APIC.
The Infection Control Toolkit: Infection Control in Emergencies and Disasters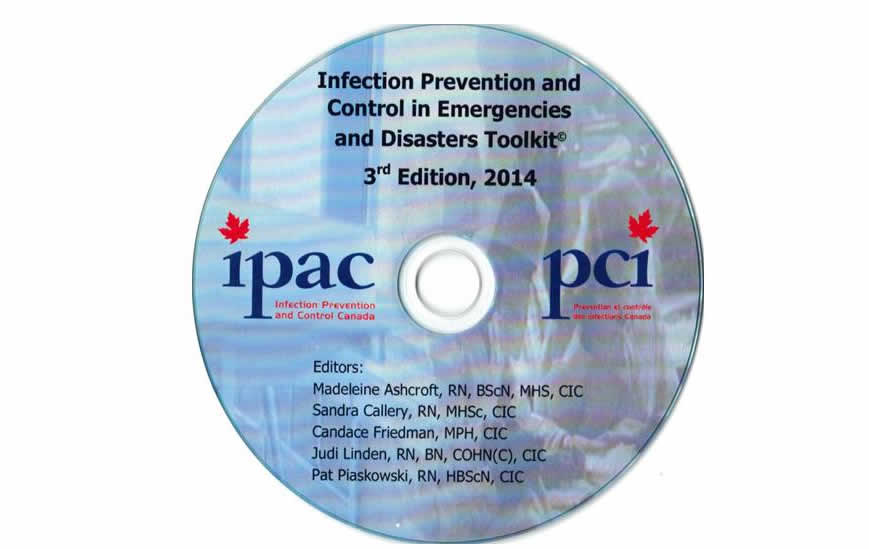 Revised May 2014
The only disaster planning document that presents information specific to the key issues of infection control. Includes all the tools and materials necessary for surveillance, education, communication, laboratory, and management of personnel and patients are included. Handy forms, references, fact sheets, flowcharts, checklists, and samples provide the framework to interface with healthcare facilities and local public health preparedness plans. No other disaster planning document presents information specific to the key issues of infection control.

Samples from the Toolkit AND Order Form
AROs: Across the Spectrum of Care/le MRA: Dans tout le spectre des soins
A 15 minute educational video covering topics related to AROs (epidemiology, surveillance and control). Produced in cooperation with Wyeth, with assistance from IPAC Canada members. IPAC Canada members may download the video from www.ipac-canada.org at no cost. Additional cost to purchase VHS or DVD.

Download Order Form / Free Download (for IPAC Canada Members only)