IPAC Canada Mentorship Program
Webinar:
Beyond the Pandemic – IPAC Canada Mentorship Program
Held Wednesday, November 18, 2020


---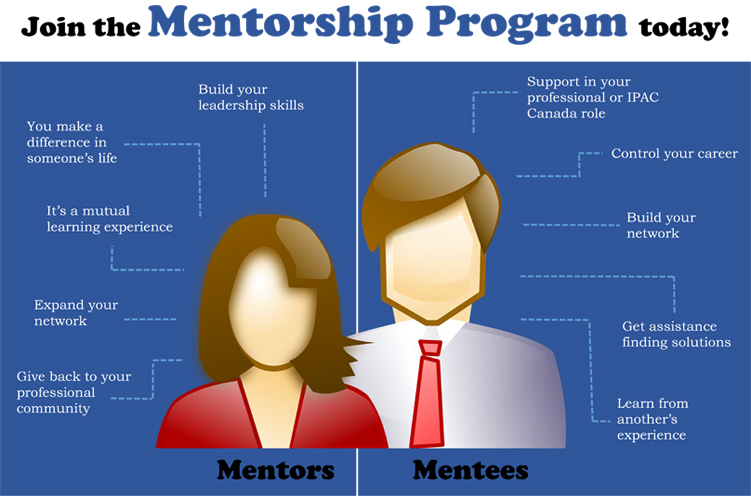 Purpose
A well-conceived mentoring program contributes to a culture of learning, and supports leadership and high levels of professionalism. The need for an internal mentorship program was identified during development of IPAC Canada's 2010-2015 Strategic Plan. The program has been developed by an internal Mentorship Program Development Committee, and will strive to match members (mentees) with a suitable experienced mentor. The mentee will receive invaluable one-on-one mentoring in their field/area of interest, benefiting from expert advice in matters pertaining to professional enhancement, networking, shared knowledge and experience, and support. The mentor will expand on their leadership skills through outreach and commitment to fostering these unique relationships.
The Mentorship Program not only serves to assist mentees progressing through various stages of knowledge in their career, and also those considering moving into leadership roles within IPAC Canada, such as chapter executive positions, or board member positions. While the mentor's role may include career guidance, it will not include finding employment for the mentee, nor will it include tutoring services.
The program is currently available only to current Canadian members of IPAC Canada.
Learn, Grow and Be Inspired - A Mentorship Story
The IPAC Canada Fall 2021 edition of Association News featured interviews with a past mentor and mentee. Read about Christine and Jennifer's journey and their positive experience with our Mentorship Program here!
Read full versions of Christine and Jennifer's interviews here:
Mentor Interview - Christine
Mentee Interview - Jennifer

Please email mentorprogram@ipac-canada.org to find out more or visit our Mentorship Program webpage in the Members Area.