The Industry Innovations publication aims to enhance the clinical research repertoire of Infection Prevention and Control Professionals as offered in the Canadian Journal of Infection Control (CJIC). This publication will highlight technological innovations offered by our industry partners. By curating and cataloguing these innovative offerings thematically based on a shared whitepaper submission guideline, we hope to offer a comparative view of industry offerings that will assist IPAC Canada members and their institutional colleagues in making informed decisions on industry partnerships and implementation of products in their facilities.
Summer 2021 Issue:


Personal Protection Equipment (PPE)*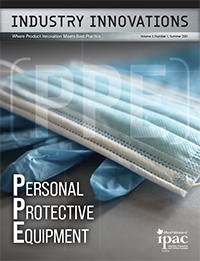 Summer 2021 Issue deadline dates:
Booking Deadline: June 11, 2021
Display Ads & White Paper Submissions Due: June 18, 2021
Summer 2021 PPE - Insertion Rates
White Papers and Ads need to be booked directly by Al Whalen, Industry Innovations Sales Manager
E: awhalen@kelman.ca | P: 866-985-9782
*Packaged with the Summer 2021 issue of the Canadian Journal of Infection Control.
Other links and information: