Infection Prevention & Control Routine Practices E-Learning Program

The IPAC Canada Infection Prevention & Control Routine Practices E-Learning curriculum was launched in March 2012 and updated in May of 2013 and again in February of 2014 and is now available in French. The program was developed by a Pan-Canadian Committee of Infection Control Professionals (ICPs) and is designed to assist healthcare facilities and staff by offering a step by step overview on best practices for reducing infections through Routine Practices.

This self-paced, six module program is primarily designed for Front Line Workers and includes case studies, simulations, narration, video and questions. You must take all six modules and achieve a minimum of 75% on the final exam after each module to receive a certificate of completion issued by Georgian College.





The Infection Prevention & Control Curriculum includes:
Module 1: The Chain of Infection
Module 2: Routine Practice
Module 3: Hand Hygiene and Personal Protective Equipment
Module 4: Environmental Controls
Module 5: Source Control and Education
Module 6: Routine Practices Applications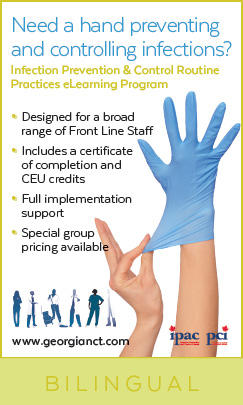 Who should participate: Front Line Workers, Paramedics, Nurses, Physicians, Patient Care, Attendants, Physiotherapists, Occupational Therapists, Respiratory, Therapists, Phlebotomists, Diagnostic Imaging Technologists, Environmental, Services Staff, Home Care Personnel, Dietary Staff, Social Workers, Pastoral Services, Unit Clerks, Office Staff, Laundry Personnel and Pharmacy Staff.
The Benefits: The E-learning curriculum is available online, 24/7 can be accessed from any computer, no special software or hardware is required, the modules are bookmarked and you have three opportunities to receive your certificate. Reporting and administration is strictly confidential and provided by Georgian College, an accredited provincial post-secondary institution.
The Infection Prevention and Control curriculum is updated to reflect current regulatory standards and protocols cross Canada
Group Discounts Available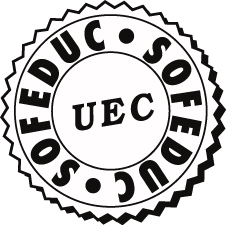 Certificate of Achievement: Upon conclusion of a training activity that meets SOFEDUC quality standards and includes an assessment of learning, the accredited training organisation issues to the participants who have achieved the learning objectives a certificate of achievement bearing the SOFEDUC seal with the mention CEU.



Additional funding provided by:



Call us at (705) 325-2740 x3368 or e-mail us at Sue.Knox@GeorgianCollege.ca.