Quick Index
COVID-19 Vaccination Tracker
COVID-19 Vaccine Guidance
National Advisory Committee on Immunization COVID-19 Guidance
Vaccine Development and Rollout
Vaccine Storage Guidance and Administration Guidance
Information on COVID-19 Vaccines (Pfizer, Moderna, Astra Zeneca and Janssen)
COVID-19 Vaccine Guidance & Vaccination Tracker
Policies and standards related to the COVID-19 vaccines that Infection Prevention and Control professionals may use to support their own documentation and best practices during the COVID-19 Pandemic.
---
COVID-19 Vaccination Tracker
As of January 19, 2022 more than 9.71 billion vaccines doses have been administered globally. In Canada, 74,657,544 doses of approved COVID-19 vaccines have been administered. In total 80,606,826 doses have been delivered, 84.007% of the Canadian population has received at least one dose and 77.683% have been fully vaccinated.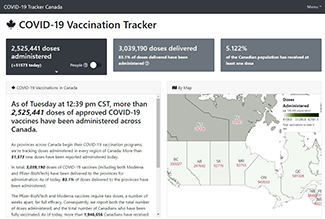 For more information refer to:
---
COVID-19 Vaccine Guidance
National Advisory Committee on Immunization
Vaccine Development and Rollout
Vaccine Storage Guidance and Administration Guidance
Information on COVID-19 Vaccines (Pfizer, Moderna, Astra Zeneca and Janssen)