Canadian Infection Prevention and Control Courses
IPAC Canada Sponsored Course:
IPAC Canada Acknowledged Courses:
IPAC Canada Endorsed Courses:
Other Courses (not endorsed nor acknowledged)

IPAC Canada Sponsored, Acknowledged and Endorsed Courses
DEFINITIONS:
Sponsored Courses are developed and facilitated by IPAC Canada education experts.

Endorsed Courses refers to the official approval of IPAC Canada indicating that the course has met specific criteria related to content, length, instructors, evaluation and delivery. Information for schools relating to endorsement
Acknowledged Courses
Acknowledgement of IPAC-related courses can be provided to a course that does not meet the criteria specified in Policy 10.80 with respect to depth and breadth of content, length, evaluation, instructors and/or delivery but addresses relevant and important topics determined to be of value to Infection Control Professionals. For more information, see https://ipac-canada.org/ipac-canada-endorsement-procedure.php
SPONSORED BY IPAC CANADA.
Program Review completed - 2020-2023

Online Essentials in Infection Prevention and Control Course. Registration for the 2021 Accelerated Program and 2021-2022 Regular Session is now closed. Applications are no longer being accepted.
Beginning in 2021 there will be two intakes offered for this course - a Regular Program, which runs from September to June each year, and a new Accelerated Program, which is a condensed 5-month version of the Regular Program, running from April to August.
Preference for admission to the Regular Program will be given to novice infection prevention and control professionals (less than 2 years' experience). Applications will also be considered from others working in health care and/or exploring opportunities in infection prevention and control. Preference for admission to the new Accelerated Program will be given to those currently working in an infection prevention and control role, or having ICP responsibilities. Documented support from your employer is required due to the nature of the course and time commitment required.
---
ACKNOWLEDGED BY IPAC CANADA
2021-2024
Centennial College: Preventing and Controlling Infections in Non-Acute Care Settings
Preventing and Controlling Infections in Non Acute Care Settings is a 7 week (28 hour) asynchronous online course designed for all currently employed regulated health care workers and administrators….
tasked with the role of assessing, implementing and/or overseeing the implementation of an infection prevention and control (IPAC) program in a congregate non-acute health-care setting (e.g., long-term care homes [LTCH], retirement homes [RH]).
This course provides participants with basic, foundational IPAC knowledge for preventing the transmission of organisms and outbreak management in congregate settings. The course may prepare a learner to attain their a-IPC (Associate – Infection Prevention and Control) entry-level certification examination through the Certification Board of Infection Control and Epidemiology.
It will not prepare a learner in attaining their CIC® (Certified in Infection Prevention and Control) credentialing which identifies healthcare professionals who have shown mastery of knowledge in infection prevention and control.
You can register online. Verification of pre-requisites, by email of letter of employment on your facilities stationary, will be required after registration and tuition payment has been processed. Your registration is verified with email receipt from the college.
To register: https://db2.centennialcollege.ca/ce/coursedetail.php?CourseCode=PI-500
---
ENDORSED BY IPAC CANADA
Centennial College Infection Prevention and Control (IPAC) course is designed for new IPAC Practitioners in a variety of health care facilities and settings such as acute care, community, Public Health, Long Term Care Homes, Retirement Homes, First Responders and Support Services. It is taught by experienced professionals who maintain their certification in infection control (CIC). This course is recommended for health care professionals with a health sciences background. Through the use of group work and practical application, students will learn the principles to plan, implement, manage and evaluate IPAC programs in a variety of health care settings. This challenging evidence informed course is offered both onsite and online.
The online course is a facilitated, interactive course offered in Spring each year, which includes recorded presentations from the onsite class. For each day of the ten day onsite course, one week is allotted for the online version which completes within 12 weeks. This makes your time online flexible within the week and individuals can work at his or her own pace.
The onsite classroom course Includes ten full days of interactive activity and is offered every Fall in Toronto. Our unique in-class course offers face to face networking with fellow students and a faculty who has extensive experience in infection prevention and control. The networking continues after students go home, online.
Materials are available prior to the course start dates. As an added benefit, all students have access to viewing the classroom material for one full year online. The course is 90 hours in duration. All students must take the online exam which is scheduled 3 weeks after the faculty directed learning portion. Then interactive learning (case scenarios) continues online for 3 months.
---
This course has recently been redesigned to update the Infection Prevention and Control content and reflects current pedagogical strategies. The curriculum is based on the Certification Board of Infection Control and Epidemiology's (CBIC) Examination Content Outline, available at: https://apps.cbic.org/certification/examination-content-outline.
TOPICS INCLUDE
Life-long Learning: Principles of Adult Learning
Evidence-based Medical & Literature Searching
Infectious Diseases Processes-Clinical Microbiology
Routine Practices and Added Precautions
Disinfection, Sterilization, Re-processing and Construction
Epidemiologic Investigation and Surveillance
Epidemiology of Health Care Acquired Infections
Employee and Occupational Health
Public Health and Education
Management and Communications in Infection Prevention and Control
COURSE PURPOSE
This Infection Prevention and Control course is an on-line interactive program for health professionals who are new to the field of Infection Prevention and Control (IP&C) or are about to enter into the practice of Infection Prevention and Control. We suggest that course registrants have obtained one of the following: RN, BSc or MLT. Other degrees or training will be considered, but first choice will be given to those working in Infection Prevention and Control.
The purpose of the course is to introduce participants to the practice of Infection Prevention and Control and to increase participants' knowledge and skills for managing the prevention and control of infections and disease.
---
The University of British Columbia Centre for Teaching and Learning Technology and the Departments of Pathology and School of Population and Public Health, in conjunction with the Vancouver Hospital Division of Medical Microbiology and Infection Control currently are offering three online infection control courses and a clerkship in clinical infection control. These three-credit university recognized courses may be taken as stand-alone courses or used towards a four-course University of British Columbia Infection Control Certificate and/or towards a Masters in Science, Nursing or Epidemiology with the permission of the individual's appropriate university departments. The courses are highly popular and early registration is recommended. The course descriptions are as follows:
---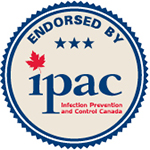 Bay River College's 16-week Infection Prevention and Control Program is an online-based interactive program, endorsed by IPAC Canada. This program is designed for front-line health care workers, and or health professionals who are looking to enter the field of Infection Prevention and Control. The ultimate learning goals for this course are to increase student's theoretical knowledge and to establish practical skills to prevent infections and diseases and solve real healthcare problems.
The Infection Prevention and Control Program is a facilitated, asynchronous, and self-determined program that gives the schedule flexibility for students to progress and complete the training in the allotted time at their own pace. By providing and utilizing industry-related theories, students will learn and be equipped with the principles of planning, implementing, managing, and evaluating infection and prevention control in all Canadian health care settings.
The course is available for students to register:
Winter: January – April
Summer: May – August
Fall: September- December
Interested applicants can request detail about the program (course, program structure, curriculum, and important dates) by emailing at admissions@bayrivercollege.ca or book an appointment with our admission advisors by calling at 403-457-6400.