2019 Conference Webcast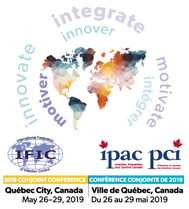 IPAC Canada is pleased provide webcasts of three sessions at the 2019 IFIC/IPAC Canada National Education Conference in Québec City.
Watch the sessions in real time!
Ask questions via the chat box!
Sessions will be available on our website post-conference!
No charge for the 2019 webcasts!
Webcasts will be available in English only.
Click here to see descriptions of the three sessions.

Registrants will receive an email following the completion of the three webcasts with a link to an online evaluation. We ask that you complete the evaluation to guide us with future webcasts.