WEBINAR: MDR Design Considerations – Meeting and Exceeding CSA Standards and Understanding Change
EVERY ATTENDEE MUST REGISTER INDIVIDUALLY.

In the event that more than one participant is enrolled from one location, i.e. a group setting (several attendees in one room), the full title of the organization attending must be spelled out when that group is logging in to the webinar.

All participants in an educational webinar must log into the webinar room with their full name.

CERTIFICATION POINTS

IPAC Canada Members can now receive an education credit towards their CIC® recertification by attending IPAC Canada educational webinars.

This is to comply with recertification requirements of the Certification Board of Infection Control (CBIC). CBIC has approved the use of a generic certificate of completion which will be available for download at the end of the webinar.

1 IPU per hour is approved for IPAC Canada webinars.

The Certificate will be available to all participants to download.
Date: Tuesday, January 19, 2021
Time: 1000 PT, 1100 MT, 1200 CT/SK, 1300 ET, 1400 AT, 1430 NL
Duration: 1.5 hours
This webinar is for IPAC Canada Members and interested colleagues.
Description
Description: This presentation will provide oversight of a new state of the art MDR department design that meets and exceeds Canadian National Standards and will provide an in depth overview of providing improved workflow and workload of Medical Device Reprocessing Technicians.
PRESENTER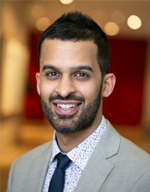 GARRY BASSI is the Director of Medical Device Reprocessing at Mount Sinai Hospital in Toronto, He has been working in the field of Medical Device Reprocessing since 2013. He has currently taken on the Portfolio for Support Services and is looking forward to migrating the knowledge to raise the standards in the hospital.
Garry started his journey when he graduated from the United Kingdom with a degree in Pharmaceutical Sciences (Drug Delivery) and completed his dissertation paper on "The effectiveness of Potassium Permanganate as a disinfectant against E.Coli in third world countries".
Garry was intrigued by the way microbes can be destroyed from his studies and knew from day one that he wanted to be dealing with something related to this field. He started his career in the Pharmaceutical industry formulating, tableting and encapsulating various drugs and vitamins, and eventually moved into the Food Industry working with large industrial sterilizers.
Garry has completed his CSA CMDRT certification and has worked in the private Medical Device Reprocessing field for 4 years. He sits on the CSA Z8000 Health Care Facilities sub working group for Medical Device Reprocessing.
Garry is the course coordinator and instructor for Seneca college for the Medical Device Reprocessing certification.
Garry has held the director of Education Position at the provincial level for the Medical Device Reprocessing Association of Ontario (MDRAO) and is currently the President Elect for the Canadian Association of Medical Device Reprocessing (CAMDR).
Garry has a passion for teaching and education and is continually looking for opportunities to move the MDRD industry a step higher and is passionate about, helping audit reprocessing facilities associated with hospitals and out of hospital clinics to make communities safer for our next generation.