Sani Marc Environmental Research and Innovative Stewardship Scholarship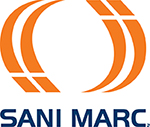 IPAC Canada and Sani Marc announce their collaboration in a new Sani Marc Environmental Research and Innovative Stewardship Scholarship. The objective is to provide financial assistance to eligible IPAC Canada members to enable an environmental research or innovative stewardship project; to present a project overview during the 2022 national education conference, and to provide results of the project during the IPAC Canada 2023 national education conference.
Deadline Date for applications for 2022 has now passed. Stay tuned for the announcement of this year's winner!
---
Recipient of the 2021 Sani Marc Environmental Research and Innovative Stewardship Scholarship
Winning initiative presented at the 2021 IPAC Canada conference:
Abstract Title: Development, Implementation, and Evaluation of Canine Scent Detection for Clostridium difficile in an Acute Care Hospital
Authors: Meghan Engbretson*, Prameet Sheth, Sandra Carlton, Gerald Evans, Heather Candon; Kingston Health Sciences Centre
Intro: This proof-of-concept project evaluates canine scent detection ability for Clostridium difficile (C.diff) bacteria and spores and its utility in a hospital environment. In Canada, the only program for canine scent detection of C.diff exists in Vancouver and has limited reach to Eastern Canada. The Vancouver program reports a sensitivity and specificity of greater than 90% for detection of C.diff in the hospital environment. This pilot program at Kingston Health Sciences Centre (KHSC) would be the first canine scent detection program in Ontario.
Methods: Phase one, proof-of-concept, is currently in progress. The canine ("Percy") was selected and obtained from an Ontario breeder. The training protocol was adapted from the National Detector Dog Manual (United States Department of Agriculture) and implemented by the handler and associate instructor.
Results: Two levels of basic obedience training, as well as an introductory scent detection class, is complete with promising canine commitment. "Percy" can reliably detect the training scents of birch and evergreen oil in closed containers in a blinded location. The next phase is to introduce the canine to the scent of C.diff using a non-infectious training scent developed by the KHSC Microbiology Lab.
Impact: Incorporating a canine scent detection program into Ontario hospitals will allow for a more holistic and proactive approach to the prevention and management of hospital-acquired infections. By detecting residual C.diff in patient rooms and unexpected areas of the hospital environment, it will be possible to evaluate the current environmental services regime to optimize for further reduction in biological burden. This program has potential to increase staff engagement by providing feedback and education in real-time.
Support of this initiative has been made possible by: