Member Benefits
About IPAC Canada
Founded in 1976 as CHICA-Canada®, IPAC Canada is a multidisciplinary organization for health professionals and others involved in the prevention and control of infections.

IPAC Canada provides representation, communication and education for those involved in infection prevention and control activities. Membership within our organization gives Infection Prevention and Control Professionals networking support and communication opportunities at provincial, national and international levels.

Over 1,600 members strong, IPAC Canada™s mandate includes Infection Prevention and Control in acute care, long term care, community and public health settings, as well as the community at large.

IPAC Canada provides expert information to outside agencies, at all levels. There are many opportunities to learn and share valuable information: conference education, distance education, and webinars; special interest groups and external committees; IPAC Chat, and Members Area of the website; employment postings; and 21 chapters across Canada offering regular meetings, education and discussion of timely topics.

Whether you are a novice and just beginning your career in Infection Prevention and Control, or are an experienced professional, you will gain invaluable information from our annual National Education Conference, from the quarterly Canadian Journal of Infection Control, from our web site (www.ipac-canada.org) and from your peers.
Membership Services Office
PO Box 46125 RPO Westdale Winnipeg MB R3R 3S3 Phone: (204) 897-5990 Toll-free: 1-866-999-7111 Fax: (204) 895-9595 Email: executivedirector@ipac-canada.org
Membership Application inquiries:
membership@ipac-canada.org
Avantages de l'adhésion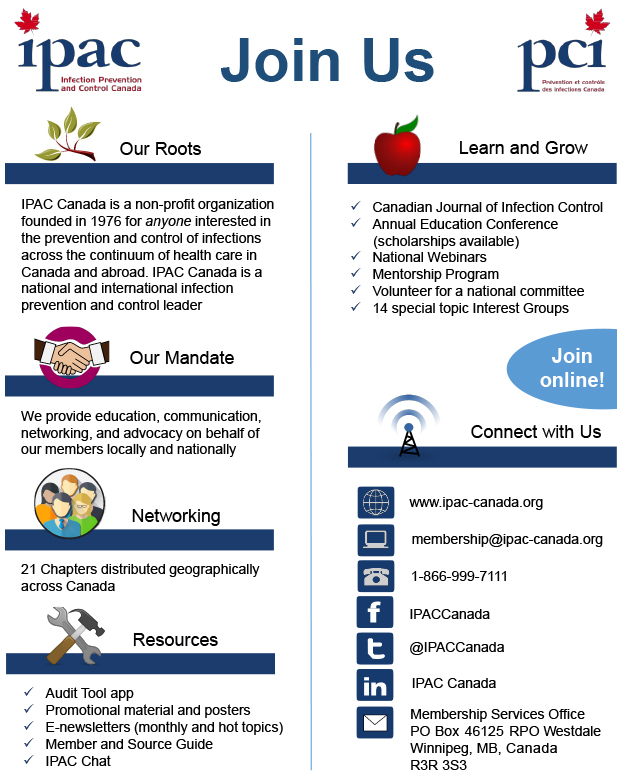 Aperçu de PCI Canada
Fondée sous le nom APIHC-Canada en 1976, PCI Canada est un organisme multidisciplinaire pour les professionnels de la santé et d'autres personnes qui s'occupent de la prévention et du contrôle des infections.

PCI Canada fournit des services de représentation, de communication et d'éducation aux personnes qui s'occupent d'activités de prévention et de contrôle des infections. L'adhésion à notre organisme procure aux professionnels de la prévention et du contrôle des infections des occasions de réseautage et de communication aux paliers provincial, national et international.

PCI Canada compte plus de 1 600 membres. Son mandat englobe la prévention et le contrôle des infections dans le contexte des soins actifs, des soins de longue durée, des services de santé communautaires, de la santé publique et de la communauté au sens large.

PCI Canada fournit un savoir expert à des organismes externes à tous les niveaux. Les occasions d'apprendre et d'échanger d'importantes informations sont nombreuses : congrès éducatifs, enseignement à distance et webinaires; groupes d'intérêts particuliers et comités externes; le site Web avec son service de clavardage et sa section réservée aux membres; affichage d'emplois; et 21 sections régionales à travers le Canada qui ont des réunions régulières, des activités éducatives et des discussions sur des sujets d'actualité.

Que vous soyez au début de votre carrière ou que vous ayez une longue expérience professionnelle de la prévention et du contrôle des infections, vous profiterez énormément de notre congrès éducatif national annuel, de la Revue canadienne de prévention des infections (un périodique trimestriel), de notre site Web (www.ipac-canada.org) et d'échanges avec vos pairs.
Revised January 28, 2016