GOJO Scholarship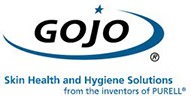 IPAC Canada and GOJO have partnered to provide a $6,000 scholarship (maximum $1500 per successful applicant) to eligible IPAC Canada members for the purpose of attending the 2020 IPAC Canada National Education Conference (Winnipeg, Manitoba, May 3 - 6, 2020). Scholarship criteria focuses on members who have demonstrated their dedication to hand hygiene and infection prevention and control education.
Online applications will be accepted beginning October 15th, 2019; deadline for applications is February 17, 2020. Applicants should thoroughly review the Scholarship Criteria, Application Form, and Chapter Activity Form (see below) prior to applying for a scholarship. The covering letters as described in the Criteria and in the Application Form are required, and are to be uploaded into the online application system separately.
2020 GOJO Scholarship Criteria
Application Form
Confirmation of Chapter Activity Form

Applications will be accepted as of October 15, 2019.
The deadline for submission is February 17, 2020.