GOJO Scholarship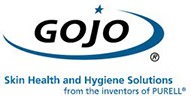 Thanks to the continued generous support of GOJO Industries Inc., members can apply to receive a scholarship to our National Education Conference. Our 2022 conference will be a virtual event, with a PreConference half-day Hand Hygiene Workshop presented by GOJO (April 21, 2022), and the main conference taking place April 25 to 27th.
Applications for the 2022 GOJO Scholarship are now being accepted. Applicants must have demonstrated leadership in the development and implementation of a project related to hand hygiene within the past two years. (See other applicant criteria in the Scholarship Criteria PDF below.) Scholarships in the amount of GOJO's Hand Hygiene Workshop conference registration fees will be awarded to a maximum of 16 recipients, and a maximum of three scholarships for the main conference (April 25 to 27, 2022) will also be awarded.
Deadline for applications is February 18, 2022. Please download and review the Scholarship Criteria, and the fillable Application Form. When you have all requisite documentation ready, complete and save the Application Form for upload into the online application platform via the Apply Now button below.
2022 GOJO Scholarship Criteria (PDF)
2022 GOJO Scholarship Fillable Application Form (Word)